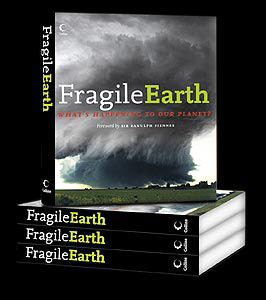 Striking views of our changing planet show the extraordinary effects of man and nature. Each set of carefully selected 'before and after' pictures is combined with detailed explanations allowing you to understand exactly what has happened to our planet in the past, and what is likely to happen in the future.
Foreword by Sir Ranulph Fiennes and personal views from expert authors in the environmental field outline what the world might look like in the future. This unique book provides a stark look at the catastrophic effects our actions can have on the planet.
Find out more about the book and how the world is changing;
Time
One of the 5 Great Photo Books of the Year
The Independent
...presents horrifying images of the changes in our planet wrought by climate change and relentless human development.
The Sun
Amazing pictures.
Real Travel
an enlightening view of a changing world
For latest news on new publications go to our blog and for information on the latest world atlases visit www.timesatlas.com.
By using this site you agree to our Terms and Conditions. Read about our Privacy Policy.